Xinrong Electric:Capacitor Manufacturer

> Company >About Xinrong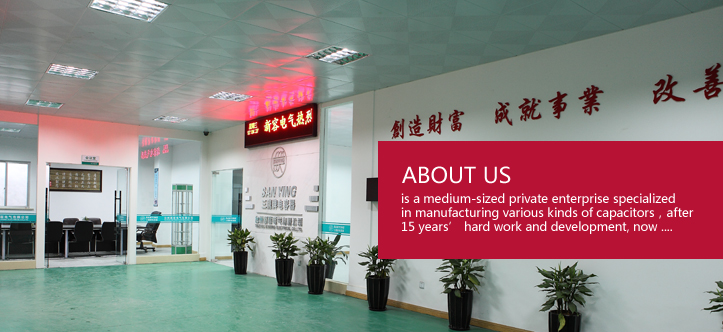 TAIZHOU XINRONG ElectricCo., Ltd is a medium-sized private enterprise specialized in manufacturing various kinds of capacitors, after 15 years' hard work and development, now we have 6 process automation equipments, our company covers a building area of over 5,000 square meters with a type test laboratory. The entire factory is sealed and standard.
Our company takes off by good quality and advanced technology, we have obtained production permit, ISO9001 quality management system certificate and German TUV VDE certificate, American UL certificate, European Union CE RoHS certificate, International Electrotechnical Commission CB certificate etc. Focusing on customers, we gradually improve the management level, production quality and economic efficiency to keep pace with the international standards.
Our enterprise culture is the people-oriented principle, we emphasize on customers' clear and potential requirements of suppliers' quality, price and the service. On the other hand, we care about the employees' expectation of salary, welfare and the training opportunity. In this way, we spare on effort to realize the win-win cooperation among customers, shareholders and employees as well as the constant development.
The spirit of our companyis: Integrity,generosity,efficiency, innovation.
The quality policy of the company: working together with one heart to create SANYING superior products and taking united effort to satisfy the customer.
The objective of the sales: creating the fortune, achieving the successful career and improving the life.
Our chairman Mr. Yongbo Ji with all the staff welcome you to visit XINRONG and know more about XINRONG.
We are bound to give the first-class products back to you!

TAIZHOU XINRONG ELECTRIC CO.,LTD
Add:Liangshan industry, Daxi Town,Wenling City (Behind Lingxiao Hotel)
Web: www.cnsyz.com ; www.xrcapacitor.cn
Email: sanying@cnsyz.com
TEL:0086-576-86321998
FAX:0086-576-86321633